DSLR Camera Remote for iPhone
Posted on December 2, 2009 by eli courey
Macworld has a review of DSLR Camera Remote for iPhone.  It allows you to remotely control your Nikon or Canon DSLR.  The cost is $20 for the full version and $2 for the Lite one.  It has some pretty cool features.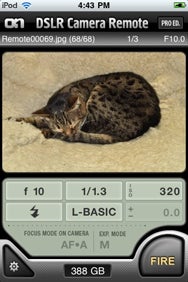 From the article:
Setting up DSLR Camera Remote is simple and straightforward. After installing the app onto your iPhone, you download onOne's camera server software onto your computer. On startup, you can specify the destination folder where images will be saved, as well as check boxes to Show Log Window and to allow images to be automatically imported into Adobe's Photoshop Lightroom. To get started, open the program, turn on and attach your Nikon or Canon DSLR to a USB port, touch the app icon, and select the appropriate server. That will automatically connect you to your camera.

Live Preview provides real-time through-the-lens viewing of what you're shooting. The refresh rate is painfully slow—only 3 or 4 frames per second. As you would expect with inappropriate exposure settings, if the f-stop, shutter speed or ISO equivalency is too high or low, the screen of your mobile device will be too dark or light; you may have to exit and reinitialize after selecting a better exposure setting before the adjustment appears on your screen. Playback displays all your captured images, as well as some metadata (file name, number of shots in the folder, f-stop and shutter speed), but you can't pan or zoom the images, to see more details.

Despite some limitations and quirks, using the DSLR Camera Remote with the Nikon D5000 was easy to use and fun. (The App Store listing for both versions of DSLR Camera Remote list the models supported by the app.) More to the point, it's an inexpensive and invaluable tool for serious studio work, or on-location shooting with a laptop or netbook, and any of a number of Nikon or Canon DSLRs.
Read the full article here: