Air hockey games for iPhone
Posted on December 8, 2009 by eli courey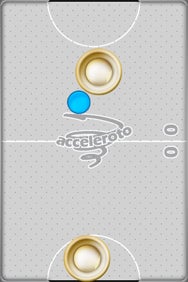 Macworld has reviewed three different air hockey games for the iPhone.  Check out the reviews here.
From the article:
For those who remember the early days of Mac, you might recall a fun (but colorless!) game from Broderbund called Shufflepuck Café. You whacked a puck around, hoping to get a goal. For those in a nostalgic mood, or who want to re-create the hectic action of the real-world version—available at a bowling alley near you—air hockey on the iPhone takes advantage of the touchscreen display and exceptional sound on the device.

Each of the three games I looked at for this round-up supports two-player mode on the same screen, which is rather unique for iPhone games. And they have background music, AI settings, and color options. But which one is the best?