Unreal Engine 3 Ported to iPhone 3GS and iPod Touch
Posted on December 22, 2009 by eli courey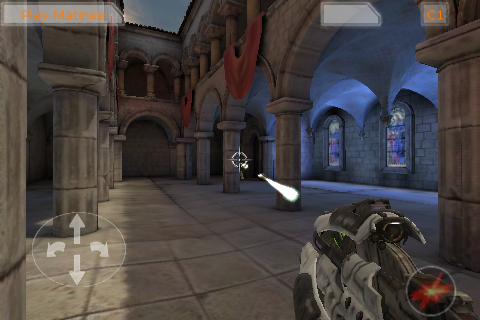 From AnandTech:
I got together with Mark Rein last week and he showed me an Unreal Engine 3 tech demo running on a 3rd generation iPod Touch. The same Unreal Engine 3 that powers Gears of War 2, running on an iPod Touch. The engine also works on the iPhone 3GS, and Mark tells me that we'll see it on another mobile platform at CES (hmm…).
The demo is both playable and has a flythrough. It's using a modified Unreal Tournament level previously shown off at GDC. A virtual thumbstick on the left side of the screen controls your movement, while tracking your thumb in the lower right corner of the screen controls the camera. Just tap the screen to shoot. Mark said this is a tech test bed and they're experimenting with several different control schemes including ones with tilt.
As you can see from the video the frame rate was smooth. There are more visuals to be added, as well as some polishing, but the demo looked very good for an iPhone game.
It requires OpenGL ES 2.0, so the iPhone 2G and 3G won't work, nor will the older iPod Touch models. It doesn't really matter though, this is just a starting point.
Epic isn't announcing any sort of iPhone engine licenses nor are they entering the iPhone game market. Porting UE3 to the iPhone is simply one of many projects being worked on inside a newer, more svelte and innovative Epic Games (wait till you see what's next…).